Over the last few months, organisations have found themselves putting in place stop-gap and workaround measures to deal with the challenges presented by Covid-19. As leaders look to the future, they will want to design and implement "new normal" ways of doing things. The new world could look very different:
Customer behaviours, expectations and demand levels have shifted.
Working practices for your staff need to better support increased homeworking, distancing, and flexibility.
Resources may have become more expensive or harder to obtain.
The competitive landscape could have changed significantly.
Regulatory changes may need to be factored properly into future design.
With so much uncertainty, it will be a major challenge for organisations to adapt their operating models so their strategic objectives can still be fulfilled.
As organisations look to "build back better", they'll want to try and plan sensibly. This could prove really challenging as the situation is still changing and the future so uncertain – any detailed plan you create for the next year will be out of date almost as soon as its written!
Organisations need to reduce their "turning circle" so they can respond quickly to new information. Agility and responsiveness will be key. This is where business analysts can help.
BAs come equipped with tools to help you figure out what your organisation needs – and their focus can be scaled down to an individual product, process or business function, or up to look at the enterprise as a whole. By engaging a business analyst, you can ensure investment and energy is always targeted in the right place.
By helping you establish what you need and what the gaps are, business analysts can help you shape and prioritise change initiatives, from quick wins to projects and transformation programmes.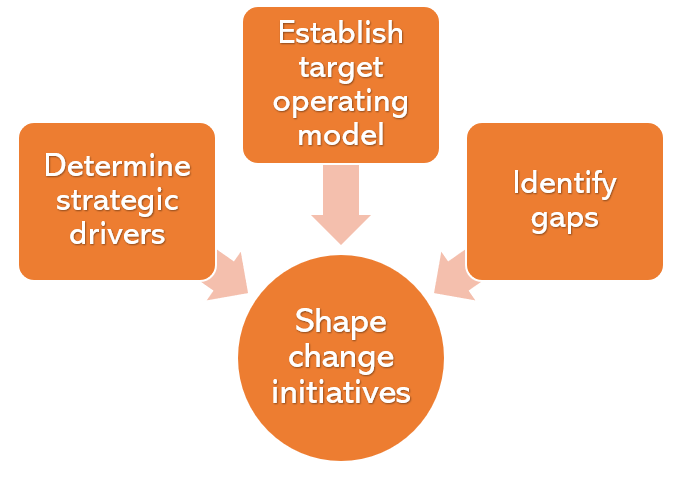 Determining your strategic drivers
A business analyst can work with you to identify strategic principles which will inform the future design of your operations. This involves looking at the factors that will help or hinder the organisation in meeting its strategic objectives, and then establishing how you want the organisation to respond to them.
BAs can examine the resources available within your organisation: its people, finance, products, property, and technology. They can review performance information to spot trends or new insights. In addition, they can help you explore the external factors that constrain what you can do or that present risks and opportunities. These might include changes to customer demand, social norms, or new regulatory frameworks.
All these things will require strategic responses – how will you capitalise on strengths and eliminate or mitigate weaknesses? How will you avoid threats or reduce their impact? Or will you make sure opportunities are seized to maximum benefit? The answers at this stage are likely to be broad statements of strategic intent or patterns of behaviour you want the organisation to adopt.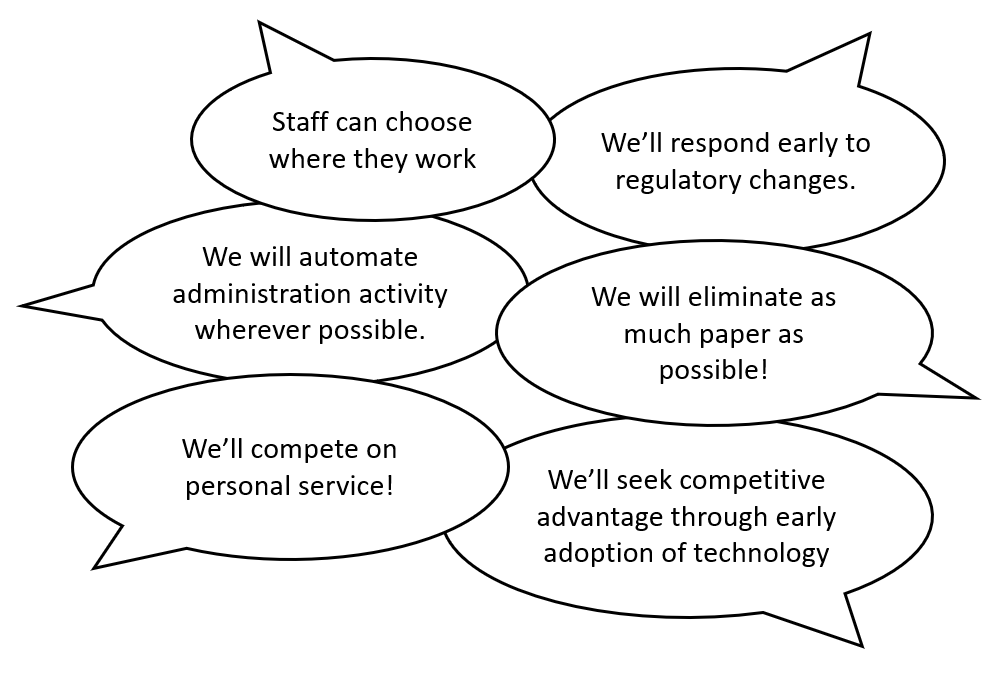 Having a collection of strategic principles means you can clearly articulate your intent, both to the organisation as a whole, and to those that will be involved in delivering change.
Establishing target operating models to fulfil strategic goals
A business analyst can facilitate the design of new target operating models which detail how your organisation must function to fulfil the strategic drivers that have been identified.
Customer journey
Value stream and process design
Roles / responsibilities
Organisational structure and resourcing
Technology capabilities / features
Information structures
Management and KPIs
Regulation and governance
Business continuity plans
Risks and controls
The BA can utilise a wide range of techniques and tools to help create and document your future state, including workshops, process modelling, value stream mapping and requirements analysis.
This design can be an iterative process – work can focus first on specific functional areas, or by theme across the organisation in line with your strategic drivers. Documentation can be as rich or deep as appropriate for the time available and the business context. The business analyst can also help build consensus between stakeholders where required.
Identifying gaps to be closed
In defining the future state, gaps will be identified where the organisation needs to adjust how it does things. It may be clear that resources need moving from one area to another, or that current technology won't provide the customer experience you want. Any gaps between the current and target state can be traced clearly to strategic drivers, making it much easier to understand and articulate priorities.
Where a gap clearly sits within a particular business unit or thematic area, a sponsor can be identified to champion the implementation of solutions.
Shaping change initiatives into programmes and projects
As gaps are identified they can be bundled together – forming the scope for projects. Where technology capability gaps are identified, these form the basis of requirements and can be fleshed out into user stories or use cases. Projects might be better delivered as part of a larger programme of change, and a business analyst can help you identify dependencies and determine priorities across your change portfolio.
Your business analyst can help identify solution options and build the business case for pursuing changes or kicking-off projects. They can help you see how changes will affect internal and external stakeholders and can help you ensure that expected benefits become a reality.
In summary…
To respond rapidly to changing demands and circumstances, you need to ensure that the direction is clear, and that resources and efforts are always targeted in the right place. Engaging a business analyst will help you adapt quickly, deliver sustainable change, and ensure opportunities don't get missed along the way.